Pellet | Thermo
Smart 120 inox
22,60 Kw • cm 120x60x87,5 h • 290 kg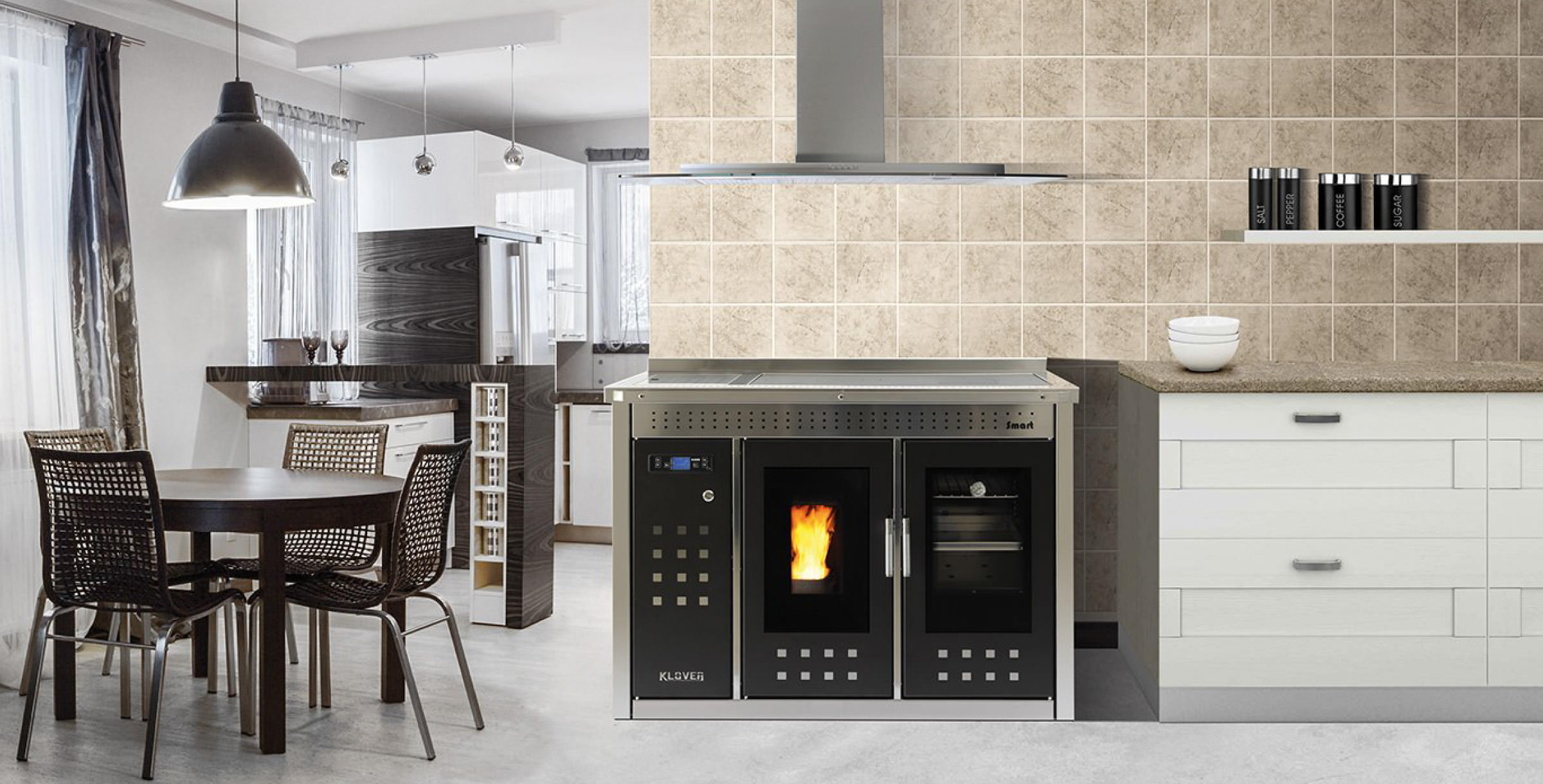 Description
Fully automated and outputting 17.5 kW to water, the SMART 120 will comfortably provide all your central heating and hot water needs as well as being a striking centrepiece in your kitchen. It has an ample hotplate and a sealed oven that quickly heat up when the stove is running. There is also an option to add insulated hob covers, which will increase the heat going to the water and oven, and decrease the heat given to the kitchen. Its internal hopper holds 32 kilos of pellets, which are fed into the fire chamber as the fuel is required, and subsequently burned at over 90% efficiency thanks to KLOVER's advanced combustion system. The SMART 120 is available in two styles: a contemporary design with a black and brushed stainless steel finish and a rustic model with tiled inserts. The SMART 120 can be fitted with a top or rear flue.
Developed in the KLOVER workshops to increase thermal yield and safety, this revolutionary system uses the principle of "bain-marie" by providing a home heating system fitted with a closed expansion chamber, while the "SICURO TOP" product has a built-in open chamber and works, therefore, at zero pressure. With this system there are no more dangers due to increased pressure if the water reaches boiling point. The pressure inside the boiler unit is zero. An overflow pipe ensures safety in the event of boiling by discharging excess water from the upper tank, while water may be topped up via an automatic or manual device, depending on the type of model.
MyKlover is the smart App that allows you to communicate with your stove at any time and from any place. The MyKlover system eliminates any barriers to total, effective control. It's an App that includes all major functions in a simple, intuitive interface.
All wiring cables are covered with woven fibreglass. This exceptional form of protection against wear and cutting provides a safe connection system over time that is also highly resistant to temperature and contact with hot surfaces.
All compo- nents constantly exposed to dampness are protected by total chrome plating to ensure long-lasting life and efficiency. In addition, the entire pellet loading system is also fully chrome treated to prevent any wear and dete- rioration due to damp fuel.